All passengers from COVID-19-hit areas will be transported to isolation camps upon their arrival at Noi Bai and will be tested at the quarantine facilities.
Under the directions of Deputy Minister of Health Nguyen Thanh Long, Deputy Minister of Transport Le Anh Tuan in the late meeting on March 18th, 2020 at Office of Emergency Management and Communication at Noi Bai Int'l Airport, passengers from major outbreaks arriving at Noi Bai Int'l airport will submit health declarations and have samples taken for Covid-19 tests in quarantine areas in order to reduce congestion at the airport, validating from March 19th, 2020.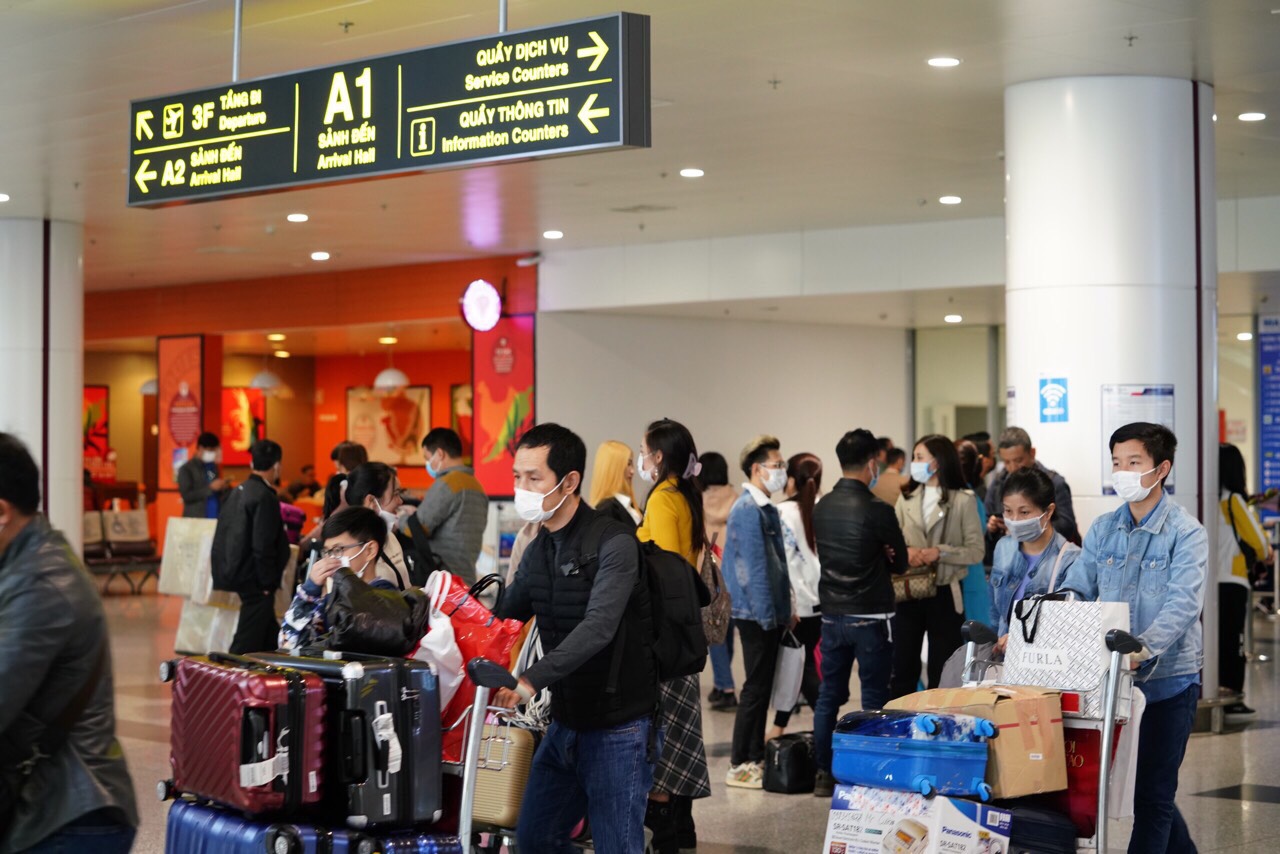 Passengers wait for entry clearance at T2 terminal, Noi bai International Airport
For the remaining passengers who are not from hit areas will implement medial declaration and entry clearance as the following procedures:
Health worker hands out health declaration forms to passengers arriving at Noi Bai Int'l Airport.
Passengers move to quarantine places and fulfill health declaration forms at the table located around, then submit those forms to health workers for examination. If there is any incomplete information, additional declared fulfillment is required. 
Followingly, passengers have their body temperature monitored, in case any passengers who have fever symptoms will be temporarily quarantined and conducted comprehensive health assessments by CDC Hanoi. If there are any epidemical diagnosis, they will be transferred for treatment at the Hospital for Tropical Diseases. Besides, other passengers transfer to entry clearance zone and execute entry procedures as regulation.
Next, those passengers will receive checked-luggage and implement custom inspection before moving to public areas and leaving the airport accordingly.
As flight schedules, Noi bai Int'l Airport is estimated to serve 1,911 arriving passengers from 26 international flights departed at Japan, Thailand, HongKong, Singapore, Malaysia, Myanmar, Laos, Turkish…
Administration Department, Noi Bai Int'l Airport