Deputy Prime Minister Trinh Dinh Dung signed Decision No. 1777/QĐ – TTg regarding Phase 1 – Long Thanh international airport project approval dated November 11, 2020. Long Thanh international airport is expected to reach 4F level assigned by the International Civil Aviation Organization (ICAO) and is become) an important international airport in the country, aiming to be one of the international air transit hubs in the region.
The first phase of the Long Thanh international airport project will invest in constructing one runway, one passenger terminal, and synchronous auxiliary items with a capacity of 25 million passengers and 1.2 million tons of cargo per annum. The total cost of phase 1 is estimated to be VND109,112 billion, equaled to USD4,665 million (exchange rate at VND23,390). The project is expected to begin in 2020 and estimated to be completed and operated no later than 2025
According to the Decision, the work will be divided into four sub-projects:
Sub-project 1: headquarters of state management agencies
Sub-project 2: flight management services
Sub-project 3: essential airport facilities
Sub-project 4: other items
Notably, sub-project 3 of essential airport facilities managed by the airport operator is assigned to Airport Corporation of Vietnam (ACV) as a project owner and ACV will raise its own capital for the construction.
Sub-project 3 will include initial infrastructures (mine and land clearance; ground preparation; line 1 and line 2 traffic connections; intersections, roads, parking area, bridge, tunnels; electricity and water systems; drainage, wastewater treatment facilities and lighting systems, telecommunications, etc.), airfield facilities (runways, taxiways, aerodrome beacons, ILS/DME system, etc.), apron, aircraft fuel system, passenger terminal, cargo terminal, office buildings, and other auxiliary items.
In particular, the key construction items consist of a 4km runway with a width of 75 meters; a system of taxiways and apron, and a 37.3 sq. km passenger terminal designed to handle 25 million passengers and 1.2 million tons of cargo per annum.
Following the overall projects approved by the Prime Minister, ACV will accordingly implement further investment processes on sub-projects in compliance with legislation, project quality, implementation progress, and investment efficiency.
Long Thanh International Airport will be applied world's most advanced technologies to easily update the leading innovations in airport construction, management, and operation. These technologies will be in accordance with international standards as well as match with the world's leading airports in term of ensuring efficiency, accuracy and reliance on airport operation with adequate energy-saving and backup power functions.
The construction items for the first phase will be synchronously built to meet aesthetic, technical, and quality requirements according to international technical standards and other relevant standards with the aim of fulfilling the objectives, scale, capacity, economic and technical evaluation criteria, investment efficiency together with not exceeding the total approved investment capital under the directions of the National Assembly, the Government and the Prime Minister.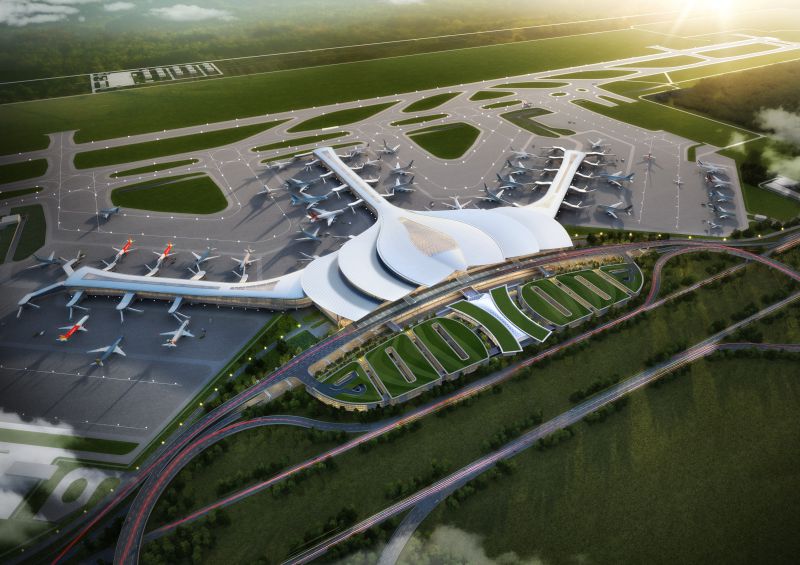 Passenger Terminal layout of Long Thanh international airport – phase 1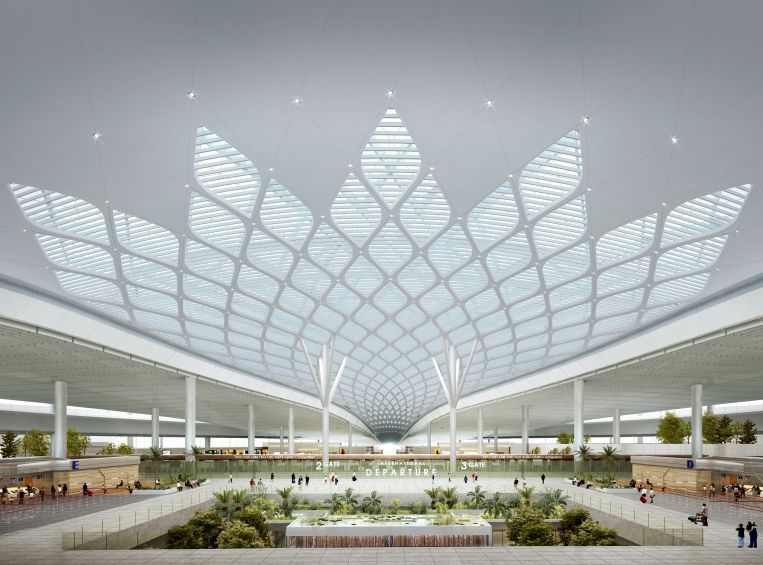 Inside layout of passenger terminal of Long Thanh international airport