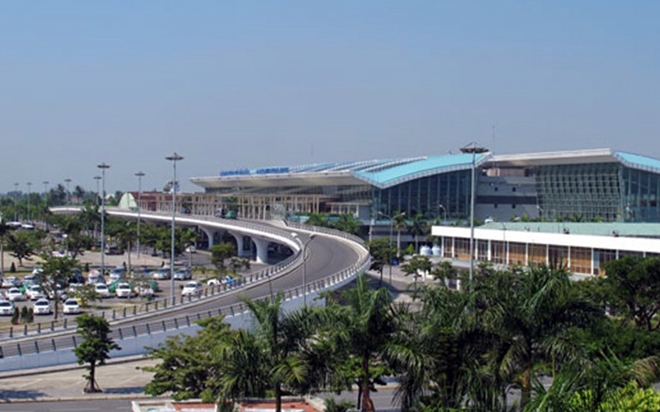 Da Nang International Airport
TOTAL AREA                           861HA                         DANANG CITY
Runway:                        02

3500 metersx45.72 meters - PCN: 56/R/A/X/T
3048 metersx45.72 meters - PCN: 44/F/B/X/T

Taxiway:                        17

Minimum width: 22.86 meters
PCN: 46/R/B/X/U, 56/R/A/X/T

Apron:                           12.45ha

21 aircraft parking stands, accomodate B747, B777, B767-300, A300-600, A320/321 and similar types of aircraft
PCN: 46/R/B/X/U, 67/R/B/W/T

Aerodrome classification             4E     Level C, IATA level of service Standanrds
Passenger Terminal: International terminal (put into operation in May 2017), 48.000m2

10 internatinal boarding gates
39 international check-in counters
05 international arrival baggage conveyor belts
02 international departure baggage conveyor belts
04 international boarding bridges

Passenger Terminal: Domestic terminal, 36.600m2

11 Domestic boarding gates
52 Domestic check-in counters
05 Domestic arrival baggage conveyor belts
01 Domestic departure baggage conveyor belts
06 Domestic boarding bridges

Navigation facilities   Air traffic control tower/Rada/Aviation lighting system

02 systems ILS/DME CAT I for two runways 35RRWY and 35LRWY, AWOS
01 DVOR.DME Tower
02 NDB/Locator
CAT I Lighting system for 35RRWY; approaching lights for 17LRWY, 35 LRWY
Radar SSR/PSR

Safety and Security        Modern facilities

Surveillance camera system, Automatic fire fighting system, Security Screening machines, full power backup generator system 24/24, 24/7 first-aid system. Security screening devices: scanning machines, walk - through metal detectors, metal handle detector, explosive detectors, explosive trace detectors, security - supporting tools.

Vicinity                           120.000m2     A System of elevated road, parking area with garden.
Airport Capacity:                                 A design capacity of 10 million passengers per year.